Custom Framing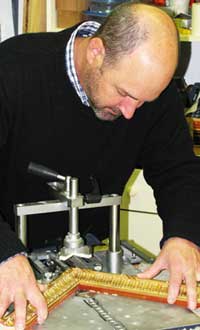 Tom joining two pieces of
moulding using the underpinner.
The perfect frame makes your Artwork sing!
Let our knowledgeable staff help you choose from over 1000 frame samples and hundreds of conservation quality mats. We also have a variety of glass options to suit every need and budget. You can count on us to de-mystify the art of custom framing. We will explain the options and terms to you, so you can feel confident about your choices.

We carry Roma, Larson-Juhl, Classic, and Accent Art mouldings. Our shop is outfitted with state-of the art equipment to make your frames by hand to the highest standard, and for the best value. We frame your art with archival quality products, properly fitting it for longevity.

All of our mat boards are of the highest quality and are manufactured by Crescent, Nielsen Bainbridge, and Larson-Juhl.

We carry Museum Glass, Conservation Clear, Conservation-Reflection control, and Premium Clear glass. Ask us about the difference when you come in.

Whether you're an artist who needs to frame your work for the next show, or you're a collector looking to revive your favorite pieces, or a parent looking to honor your child's artistic efforts, whatever the project, we're here to help.
Get those pieces from under your bed or the back of you closet, or the dated, stained, pieces from above your fireplace and finally get them framed. You'll be glad you did!
Our fabulous double-mitre saw! Cuts 2 perfect 45 degree angles everytime, for precision joins.

Made in Brazil, this is a top-of-the-line tool, that saves our customers money because we can order in the lengths of moulding for a better price, and make the frames ourselves from scratch.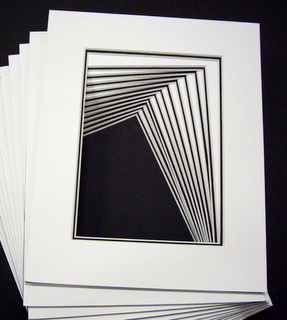 Here are some examples of double-mats. The top Mat is white and the bottom, (or sub-mat) is black. We use various combinations of colours to accent the art that you bring in. We also do triple-mats and mats with fillets. There are many to choose from, but we'll help you find the best combination for your artwork.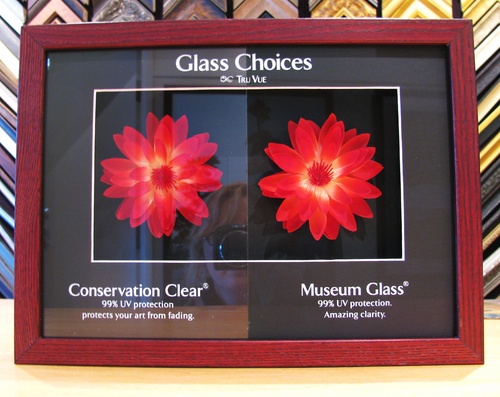 This is AMAZING! We love Museum Glass, as its clarity and quality is unparralleled. While both Conservation Clear glass and Museum glass will protect your art from harmful UV rays, The museum glass is so clear that people often reach out to touch the flower on this sample, thinking that there is no glass in front of it!